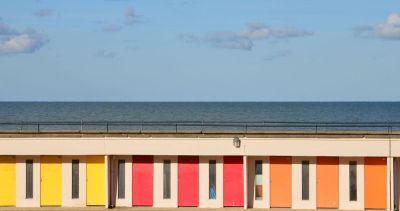 Le Touquet
While staying in our hotel, you can visit Le Touquet and discover its beautiful nature dotted with villas, each more elegant than the next (white walls, blue borders, red tiles, flowered lawns surrounded by impeccable hedges). Just 14 km from Berck, Le Touquet-Paris-Plage has cultivated its chic character for over 100 years. The internationally renowned resort has a superb forest of maritime pines and an immense beach reminiscent of the Gironde coast.
Hotel Régina near Le Touquet
Its architectural heritage can be seen as soon as you enter the city, in the midst of such atypical "Touquettois style" constructions. This trademark is the heritage of the 1920s, when a few architects competed in their imagination to build several thousand villas and thus brightened up the streets of Le Touquet. A certain number of these buildings are now classified as historical monuments, in particular the town hall, the racecourse, the market or even the villa Tata Ice, with its pink hue and cubist shapes.

Le Touquet also attracts a multitude of visitors for the major sporting events that take place there all year round, including the Touquet automobile rally, the spectacular Enduropale, the Touquet Raid, not to mention the horse riding competitions and competitions of golf which are organized at Golf du Touquet, one of the most beautiful European sites.

If you prefer to gain height, the Canche lighthouse, which offers guided tours without reservation, allows you to observe the ramparts of Montreuil and part of the Opal coast, as far as Artois.